Hi,
I've encountered a rather weird behaviour of my application while running idle. There're many components and application is running smoothly at 60FPS but I've noticed that memory keeps going up and then GC steps in and everything cycles. It does not increase total memory usage over time or anything so I doubt it is a major leak but I was wondering whether this is a normal situation of anything can be done to prevent this.
I've failed to find anything while profiling application using Chrome's DevTools, mainly because I lack skills in profiling JS but also because DevTools display Parent/Child relation of objects in a weird manner cycling parent, child, parent, child, etc. all over the bottom-up stack trace making it harder to manually scan through and see what is the root cause.
As you can see on DevTools screenshot (1) memory stacks up to certain level then GC kicks up (~ 30MB cleaned up, total). Every frame builds memory up a certain level (~ +0.1KB).
(1)

(2)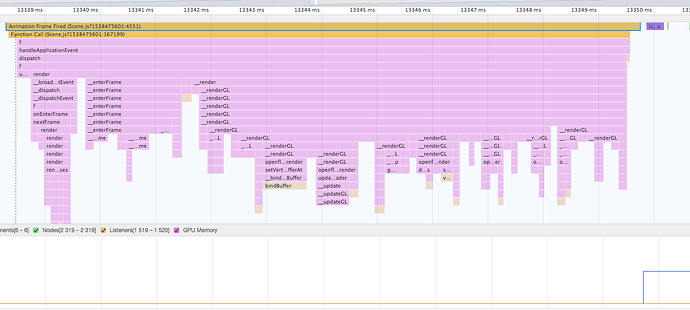 Any suggestions?
Thanks!

EDIT: I haven't mentioned that I've found something related to sounds while getting through heap dumps but it still happens after I've disabled all the sound channels in application (commented out everything related to sounds).