Hello, i have openfl project. All libraries are updated to last versions, build in legacy mode. When the app is put in background i set framerate to 1, stop all sounds, proccess and listeners. On Android devices after return to foreground app has decrease perfomances for some time.
After 30 sec in bg mode = ~5 sec slowdown… 1 min = ~10-15 sec slowdown…
Run app (Red line - FPS, green columns - delta time between frames) :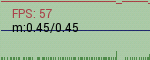 After bg mode: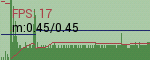 After few seconds: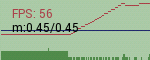 Somebody faced with this problem?