Hi all,
I've been having random crashes with my game for a while when compiling to windows target, while it runs perfectly when targetting flash.
I finally realized I could debug those crashes from a debug build using Visual Studio. Turns out the crashes are always very similar.
Been trying to remove a lot of things from the game in order to understand what is causing this but I have no clue… it really seems "random" as I have lots of logs and traces and it doesn't happen consistently on a particular step in my code.
Here are 2 screenshots from visual studio when thoses crashes happen : it's always on "MarkObjectAlloc" in GC.h or "MarkObjectAllocUnchecked" in lmmix.cpp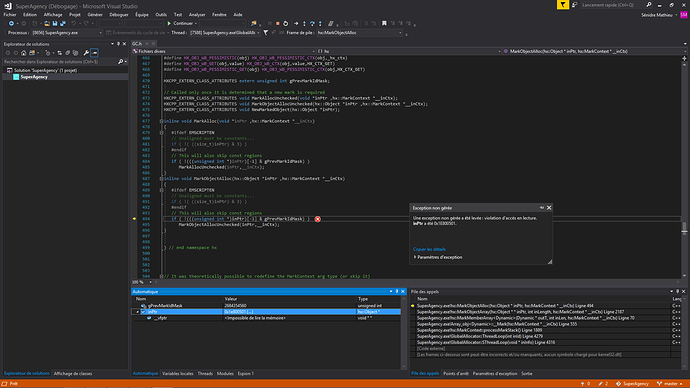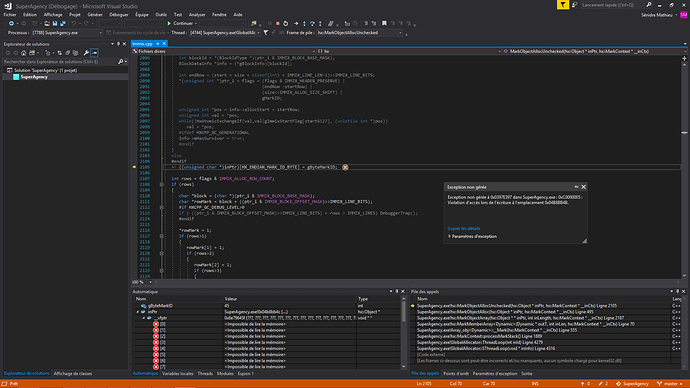 I never did c++ stuff and I'm kinda lost here : any idea what is happening ? What should I do to identify what's causing the issue ? How can I get more details or anything that would lead to being able to fix this ?
I can have the game run in auto demo mode for hours on flash target, while it crashes on windows after a few minutes.
Thanks a lot for any input !
edit : forgot to translate some of the french stuff
"Exception non gérée" would be "unhandled exception"
"violation d'accès en lecture" would be "read access violation"
"violation d'accès lors de l'écriture à l'emplacement 0x…" would be "access violation while writing to location 0x…"