Hi,
my problems with TextFields are a very old story, and ofter wonder if I am the only one struggling with this hassle. Today I have tried a different approach, getting a predefined textfield from a SWF (and setting a custom text), as I am converting an old AS project that used a lot of textfields defined in the SWF.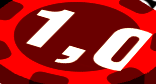 As you can see the textfields keep being cut on the right, as if the width was calculated wrong when updating the text.
I tried changing alignment in the FLA but nothing changed.
This problems persists from when I started using Haxe in 2015, am I doing it wrong? I hoped that by importing a TF from a SWF the problem would have vanished, but it has simply been confirmed, it exists and it is not just me and my way of coding


I absolutely need a fix or a valid workaround, as the problem periodically shows up.
I am using webGL, latest libs.