Hey peeps!
Today I stumbled upon a very specific problem(?).
I'm trying to draw pixelated shapes using Context3D with drawToBitmapData(buffer). I did find a way (not very efficient thought) to achieve this in Flash (as you can see in the image below).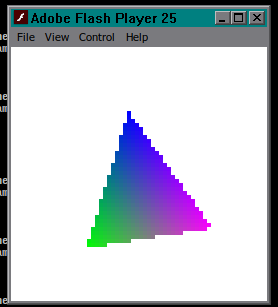 It calls drawToBitmapData(myBitmapData) where myBitmapData is just a general purpose buffer.
Quite OK but only works in Flash… and achieving the same in HTML5 and maybe neko would be terrific! (which by the way I still couldn't crack…)
You guys surely know a better way to do this and I'd love to hear it!
And by the way, the "Stage3D" in OpenFL is a very nice way to abstract many of the complexities of going full OpenGL when doing basic things (for a beginner in 3D like me it's really nice to be able to grasp the basics of 3D graphics programming without the hassles of OpenGL).
Thanks in advance


~asdfgl