Hello everyone!
I want to center a TextField inside a Sprite object but I have some problems because it seems that the local coordinates of the Sprite start at the lower right corner. So if I set the TextField coordinates to be the x and y coordinates of the Sprite, the TextField is positioned in the lower right corner of the Sprite.
Here is an image of what happens: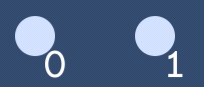 I want the TextField to be both horizontally and vertically centered inside the Sprite, but with these weird coordinates I can't figure out how to do it.
So any help is appreciated! Thank you!
This is the code I use to create the Sprite and the TextField:
class Circle extends Sprite {
    public var number: TextField;

    public function new(size: Float) {
        super();

        drawCircle(size);
        drawNumber(size);
    }

    private function drawCircle(size: Float): Void {
        graphics.beginFill(0xd2e1ff);
        graphics.drawCircle(0, 0, size / 2);
        graphics.endFill();
    }

    private function drawNumber(size: Float): Void {
        var format: TextFormat = new TextFormat();
        format.font = "fonts/Sen-Regular.ttf";
        format.size = Std.int(size);
        format.color = 0xffffff;
        format.align = TextFormatAlign.CENTER;

        number = new TextField();
        number.text = (Math.random() < 0.50) ? "0" : "1";
        number.defaultTextFormat = format;
        number.selectable = false;
        number.width = width;
        number.height = number.textHeight;
        number.x = x;
        number.y = y;

        addChild(number);
    }
}