I tried updating to OpenFL 6 before, but the game immediately crashed (on Windows 10). Windows says the program has stopped working. If I choose Debug, Visual Studio shows: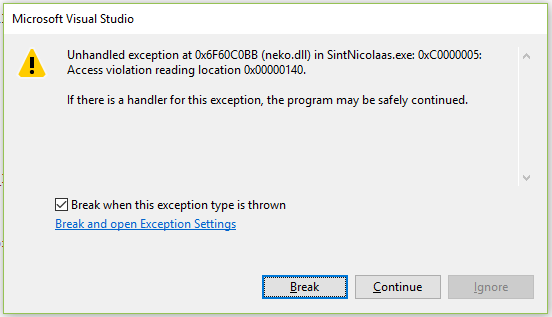 Now I traced it down to this line:
language = openfl.system.Capabilities.language;
If I remove it, the game works again (in Windows).
Anyway, I wanted to try to release an Android version with the builds that Vega suggested, however, it seems like the admob-openfl library is not compatible:
D:/haxetoolkit/haxe/lib/admob-openfl/0,0,3/com/pozirk/ads/Admob.hx:26: characters 7-23 : Type not found : openfl.utils.JNI
So, back to openfl 5 then.
signmajesty, I just uploaded a debug version here: http://www.wieringproducties.nl/temp/SintNicolaas-debug.apk