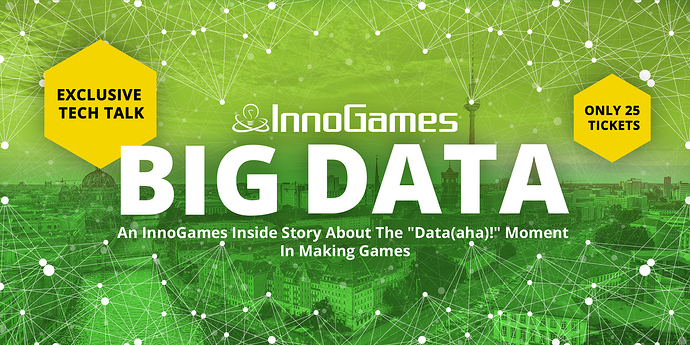 It´s that time again: InnoGames is around the corner, it´s time for exciting stories, a delicious buffet, chilled drinks and the gamesweekberlin 2018. We want to enrich Berlin with a great networking event and with our guests. We would like to welcome you as well on our event, because we think, that this would be a great chance to exchange some knowledge and great stories.
Where? At GUICE, a creative space centrally located in Berlin-Mitte
And when?! On Tuesday, April 24th at 19:00
Meet your peers, learn more about stream processing, Apache Flink and our international developer team in general while Volker Janz, Technical Product Lead Analytics from InnoGames' Corporate Systems, will tell you the story of searching the 'data-aha!-moment' in making games. Learn more about our data-driven approach and centralization, deep analyses and ongoing challenges in game design that are an inherent part of making games at InnoGames.
Space is limited! So, be fast and register on https://an_innogames_inside_story.eventbrite.de/.
After your registration we will send you a confirmation for entering the guest
list. Do you want to bring a friend? – please feel free to share the Eventbrite link with your network! .
See you in Berlin!